A Chocolate Parfait Year: To Get What You Want, Know What You Want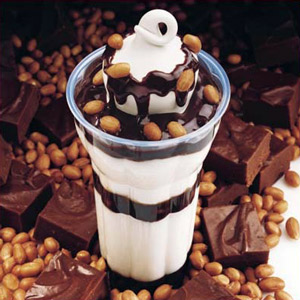 All my life I have had a very keen sense of what I could not have.  I think this is a natural part of childhood, the setting of boundaries.  No, you cannot drink coffee! No, you cannot run outside naked!  These restrictions keep us alive, but they also narrow our universe.  I, for one, have found myself never asking myself what I want; instead, I think of what I believe I can get.
Here is a story.
When I was about four years old, my father took me to Dairy Queen.  "What do you want?" he asked me.  Being just a little kid, I had only ever been given a small cone.  Knowing Daddy is a softie, I asked for a medium cone.  With a disappointed expression, he said, "that's all?"  Feeling brave, I said, "A medium cone with a chocolate dip!"  He them pointed to a poster on the wall advertising a quadruple-decker chocolate parfait.  "Don't you want that?"  For a moment I was speechless.  The "Peanut Buster Parfait" cost ninety-nine cents, and my mother had explained to me that this was the same thing as a dollar.  Could I dare even dream of something that extravagant?  Timidly, I nodded my head and my dad paid for the parfait that was so tall that it came with a special spoon so you could reach the bottom of the glass,.  To this day, it remains the most lavish gift I have ever received.
It's a sweet story, but I have been reflecting upon it more and more as I make my plans for the new year.  As a four year old kid, a dollar seemed like a king's ransom. I could not imagine little me being worthy of a dollar-treat.  What I couldn't understand was that for my dad, a dollar wasn't a major investment.  Another blind spot was that I could not yet understand that he wanted to do something special for me.  I just assumed that my own financial situation was all the universe had to offer.  (And I was on a fixed income of a quarter a week to put in my change purse!)
Somewhere between now and then, this habit of asking for the smallest thing became ingrained in me.  Part of it, I am sure is gender socialization.  "Good girls" don't ask for things and they stay in their places.  Furthermore, keeping your expectations and desires in check cuts down on the risk of disappointment.  And, of course, it is good to have self-control– you can't go through life like Cookie Monster gobbling up everything that looks yummy.  But even though you can't act on all your appetites, you must at least know what they are.  When I was a little girl, I didn't even look at the parfait because I thought it was out of my league.
So as I start the new year, I have been thinking a lot about what I want my life to look like.  Not, what I think that I can get.  Not what I think I deserve (whatever that means.)  I am just asking myself, "Tayari, what do you want?"  I realize that this is a question that no one really asks me, and honestly, it's not one I have asked myself.  I've realized my answer is, "I don't know."  There are baby-step milestones I want to achieve, but I have never really allowed myself to imagine abundance with any sort of specificity.  And that is really a shame.
So this year, I am really thinking about my own wants, desires, and appetites. I know that asking for what I won't is not going to miraculously provide it, but I it is the first step and you can't even ask for what you want if you haven't even let yourself think about what that might be.  I'm using my journal to make lists. I'm even playing around with a vision board.  I don't want to be the girl who asks for the medium cone.  I want to be the one who points to the chocolate parfait and says, "I'll take that one, please."