A Healing: A #WRITELIKECRAZY guest post from Remica Bingham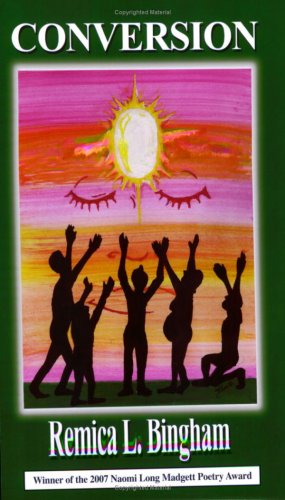 I was looking through the archives of this blog looking for posts that would be inspiring to us as we #WRITELIKECRAZY and I stumbled upon this peace by Remica Bingham.  I know that one fear that can keep a lot of us from writing our story is fear of alienating our family.  In this post, Remica writes about how her parents came together to design the cover of her first book.
A Healing by Remica Bingham
It's a strange thing to find your father where you never thought he would be. So when I found my father pouring through the rows of poetry on my bookshelves I was a bit taken aback. He wasn't reading any poems, just looking at spines and covers, examining each book, its texture, style. This was July 2006, after I found out I'd won the Naomi Long Madgett Poetry Award and that my book, Conversion, would be published, in a matter of months, by Lotus Press.
When Lotus Press asked me if I had any input as to what I'd like to see on the cover of the book, I knew this was the right press at the right time. I told them my father was an artist and that I'd like him to do the cover art. Not only were they agreeable, but they seemed fond of the idea as well, without even knowing our story. I suppose they had read the book, though, since they'd chosen it for their book prize, and did get to glimpse into our past. My father takes a bit of a thrashing (as do many others—myself included) in the book. I tell so much about the dark times in his life, in our lives. My father and mother divorced when I was twelve and remarried when I was twenty. After many years of turmoil and distance, they found their way back to each other, older, wiser and more open to the possibility of happiness, of trust.
When I asked my father if he would paint something for the cover of my book, he was a bit reluctant. He's so humble and protective of me. I could see his worry already dawning. Eventually, he would say 'yes', but it would have to be perfect. He set a lofty goal for himself, especially with such a close deadline (we had less than two months to get the painting to the press), but he was on board. I must admit, I was nervous, too. I wasn't concerned at all with his skill (I still keep the portraits he painted for me when I was a child), but I had no idea what I wanted, and therefore, couldn't give him any instructions, not even a slight lead.
Sometime in July, after I'd caught him ravaging my shelves for ideas, my father and I went to Sunday breakfast (a weekly tradition) and I told him about a dream I'd had the night before. I saw a woman's face and colors, lots of bright colors. I had no idea what it meant or if it meant anything at all. I must have sparked something for my father though, as he'd been reading and re-reading my book and said the dream was all the inspiration he needed. It all fit together for him somehow, and the cover was born.
I never dreamt my first book would turn out better than I'd let myself imagine. It is pure color in a sea of green. The eyes I dreamt of are there and the textured sun. People are standing in praise, every bit the Conversion I'd hoped for. My mother, father and I went out to celebrate after he'd put the finishing touches on the painting and my father and I talked endlessly about the book's set up, where his name would go, whose blurb I was still waiting on. We went on so long that my mother finally interrupted us and asked, "Well, what am I going to get to do?"
My mother is my biggest supporter, she was a single-parent for so long, I think she felt a bit left out, and rightfully so. This book was the first real project my father and I had worked on since he painted my peacock mask for animal day in the fourth grade, so we'd begun to exclude everyone else, even her, from the conversation. But her question stopped us in our tracks. "The picture!", I replied, "Mom, will you take my picture for the cover? Then all of our names will be there."
And she did and they are.
Lotus Press and the cover designer, Leisia Duskin, did such a great job with the book that we couldn't help but marvel at out work, all of our singular efforts becoming one, when we finally got the book in our hands.
When I hung outwith Tayari in February 2007, the book had just come out and had made its way to the shelves of Busboys and Poets—a trendy hot spot in Washington, D.C. When we all went over to peruse the shelves, Tayari asked me about the book, the cover, the author photo, the press. When I told her my Dad painted the cover and my Mom took the photo on the back, her immediate reaction was, "You have to write about this for my blog. People would like to hear that story."
I'd never thought about it that way, as something that would make any kind of difference to perfect strangers. I am just beginning to understand her interest now, as I'm writing this. That's the true power of words and why so many of us make the continual trek to the page: we go there for a healing. That's what I find looking back at the miracle that became my book, the story of my parents and I. There such forgiveness in the story—we all forgave each other for past mistakes, for anger and distrust. The poems, the photo, the cover, all of it was a healing for us, a welcome home.
2007
visit www.remicabingham.com
PS Her new collection of Poetry, What We Ask of Flesh is availble for pre-order.