Are You Prepared for the Possibility of Adventure?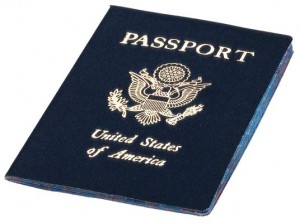 Today, I am renewing my passport. I can't believe that it has been ten years since I made a New Years Eve promise to myself.  Things were a lot different then.  I hadn't yet published my first book.  I was living on a tight budget.  I did all my writing in a closet. Not a converted closet, but an actual closet with clothes in it, and also a small desk.  But still, I decided to get myself a passport.
Why? It was because of advice from an older friend.  She said: "You should always have a current passport, even if you don't have money right now, even if you don't have plans.  What if an opportunity presents itself?  What if someone invites you to go to Paris? Can you imagine having to say no because you didn't have enough faith and imagination to believe in the mere possibility of adventure?"
Well, nobody invited me to Paris, but I did get myself a passport. And once I had it, I started thinking of myself as a world traveler, even though I hadn't set foot in any foreign country.  I found myself keeping my eyes open for opportunities to get that passport stamped.  I applied for residencies in Europe.  I trolled the internet for cheap flights.  As I am getting ready to turn in my old passport for a new one, I see that I have used nearly all the pages. Ghana, Uganda, Brazil, Switzerland, Italy, Spain, France…
If you already have a passport, wonderful.  Make sure that it is current.  But if you don't have one, promise me you'll get one.  The world is waiting for you.