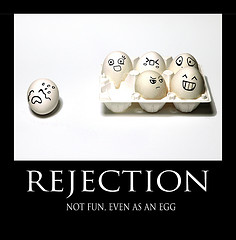 Edan Lepuki has a great post up over at The Millions about a book she wrote that she hasn't been able to publish. If you are in this situation, I definitely recommend that you read the article. Here is the line I like best: "Lastly, these months of rejection have taught me the difference between being tenacious and being stubborn — and being stubborn and being desperate.." In short you have to learn when to let go.
I would like to add just a little extra piece of advice about coping with rejection.
Just to establish my rejection bonafides: My first book Leaving Atlanta was rejected by 26 publishers. My new novel, Silver Sparrow, received about a dozen "passes". And in my desk drawer is a healtfelt, but unpublished and unpublishable novel called Evangeline. So despite what is happening to me right now, I know what I'm talking about when I talk about rejection and disappointment.
The best way to cope with rejection is to write something else. Afterall, you would have to do that anyway. If your book is snapped up by your dream publisher and you sell foreign rights all over the world, what would you have to do next? Write the next book. No matter what happens, the next step is the next book.
So go do that.
And maybe one of those books in the drawer will be something you will be able to publish later. As for me, I am so happy that Evangeline is safely tucked in a drawer, although I worked so hard on it when I wrote it. But maybe you novel that isn't connecting with publishers today, will connect with them later. You'll still have it. And you still have to write something new.
Good luck.