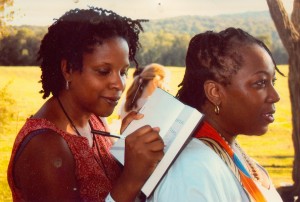 Tomorrow, I am leaving to go to Cambridge for a year to accept a Radcliffe Fellowship at Harvard University.  This fellowship is such a gift—for the full year, my main responsibility is to read, write, and interact with other artists and scholars.  (No committee work! No papers to grade! No hellish commute!)When I received the call notifying me that I had been chosen for this award, I literally danced in the street with my dear friend, Rigoberto Gonzalez.  We stopped traffic and the motorists on Grove Street did not share our joy.
I am a person who believes that His eye is on the sparrow and the title of my book, Silver Sparrow, is a nod toward that sacred hymn.
As I have been packing up to go, I have been unearthing old photos and I came across this one, taken at the Breadloaf Writers Conference back in 2003.  I feels like at least a lifetime ago.  When this photo was taken I was at an outdoor book signing reception.  I wasn't anywhere near being an "it girl".  I was just a first time novelist trying to figure this whole thing out.  Breadloaf, as you may know, is the scene of scenes for emerging writers.  And, alas, I was not one of the Cool Kids, but I had a novel that I had written with my whole entire heart.
I was standing around feeling awkward when a woman approached me and asked me to sign her book.  She said she had read it almost a year earlier and had brought her hardcover copy to Vermont with her and would I sign it.  I still remember how moved I was.  Back then, it was still a miracle to me that anyone had heard of me, or had bought read my book.   There was no signing table for me, so she said, "use my back."  I can't even begin to unpack the metaphor.
I feel like finding this photo on today of all days, is a little reminder to me to remember where I've come from and what I am here to do.  I recently received an email from a silver sparrow daughter  who said she was moved and healed by my novel. I won't violate her privacy by posting her words, but it reminded me that literature matters and telling/reading/hearing our stories makes a difference in our real lives.
It's no accident that these messages have come in now, just as I am on my way to Cambridge.  These  are loving anchors, attaching me to what really matters as I move myself forward.