For the next three weeks I am going to be living in the village of Labastide in southern France enjoying the La Muse artist's retreat.  Although I have been to several artist's residencies in the past, this is a new experience for me.  Here's my report from my first few days.
To get to La Muse, I traveled by train from Paris.  The ride was about six hours total, and I had to change trains in the middle.  Trains in Europe are very comfortable– especially the ride from from Paris to Bordeaux.  Even the sandwiches in the cafe car were delicious.  I was apprehensive about the journey because I speak next to no French, but it worked out just fine.  People speak a little English and I had researched the trip thoroughly, so I knew what to expect and where to go.  Once I arrived at the train station in Carcasonne, a representative from the retreat took me to the grocery store and then up the mountain to the house.
La Muse is run by John and Kerry two New York writers who bought the house– built in 1100 AD (!)- basically on their credit cards.  They live in a part of the house and the rest is occupied by writers who come for three week retreats.
I have been to many writer's residencies, but never to a retreat.  La Muse is not like visiting an artist colony like MacDowell or Yaddo where there is a large staff dedicated to keeping the writers fed and watered.  La Muse is more like visiting your country home.  It's in a beautiful location– you should see the view from my window!  The writers themselves are responsible for their own cooking and basic upkeep.  It has been nice so far taking care of myself.  In my regular life, I eat a LOT of New York take out, so it has been sort of relaxing to prepare my own meals in the evening with the fresh vegetables we bought at the supermarket. (Does anyone have a nice recipe for duck breast?  I bought one, but don't know what to do with it!)  There are also opportunities to buy eggs, chickens, honey, tomatoes, etc that are raised and sold by the neighbors.  It's really old world living.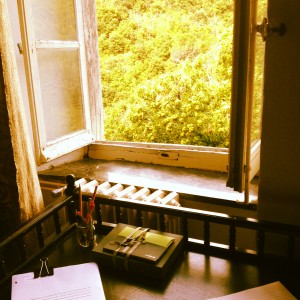 As a retreat, rather than a residency, the writers simply rent rooms like you would do in a hotel.  I was attracted this because I was tired of soliciting letters of recommendations and anxiously awaiting a letter of acceptance.  With a retreat– you pay then you show up.  I chose a suite of rooms called "Calliope" because I like to sleep and write in different spaces.  But there are very nice rooms that have both the bed and writing table.  The house is about a thousand years old, so there are little quirks, but it's very pretty and John and Kerry appear to be renovating it, one room at a time.  (My bathroom, for example, is dreamy!)
The up-side to the DIY-ness of the retreat is that you just eat when you're hungry, drink when you're dry.  There is no need to go to the dining room at any appointed time, possibly interrupting your writing groove.  But of course this is the downside as well.  If you want to eat, you've got to fix it and to plan it.  This morning, I had to get up from my writing table to meet the bread delivery man who brings the baguettes. But the upside is fresh baguette, warm from the oven!
In the afternoons we take long walks through windy mountain roads.  There is a spigot that offers crystal clear spring water where we fill our bottles.   Once a week, we go on an outing in John and Kerry's car.  On the last day, we'll get gussied up and go to a restaurant about 30 miles away that boasts of a Michelin star. (Yes, I'm into that.)
But the real pleasure of being here is the time to write and think.  When I arrived here, I had a little bit of work on my plate– letters of recommendation to write, novels to blurb, etc.  But I've put all those babies to bed, and now I can just sit here are spend some quality time with my characters.  I've been having a hard time writing lately– but over the last few days, I have felt the writing return.
I don't have my typewriters, but pen and paper are working out just fine.