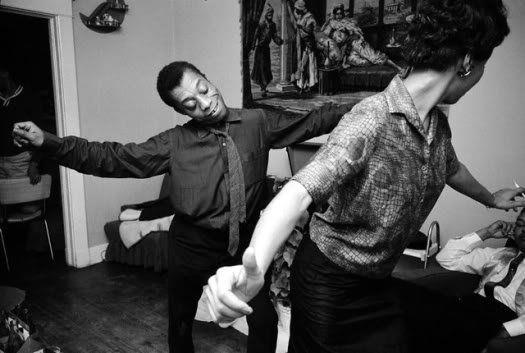 Today is a big day for me.  At 4pm, I will read from my novel-in-progress at the Radcliffe Institute, where I am a fellow.  My name, translated literally from Swahili, means "she is prepared."  I always thought it was a little lackluster and practical– like a pair of low-heeled shoes with arch support and laces.  But for this event, I have embodied the spirit of "Tayari."  I have worked hard to make this reading and lecture the best it can possibly be.  The first challenge was choosing excerpts that worked together and could be expressed by being read aloud.  And then I needed to write a narrative sort of putting the work into context explaining why this story, why now. Around 8pm, I did a skpe run through with Lauren Cerand, making sure I had all my bases covered.  Then, I rushed back home to set my hair.  I went to bed feeling that I had done all I could do.
I woke up this morning and glanced at facebook and I saw the photo that is displayed here.  James Baldwin and Lorraine Hansberry getting their boogie on!  I looked at three more friends pages, and there was the photo again.  I am taking this as a sign. In all my preparation, I had forgotten the fun.
Look at this picture.  James Baldwin, that super serious American genuis looks like he is about to drop it like it's hot.  And that is the author of A Raisin in the Sun shaking a tail feather.  I imagine myself sitting on the couch sipping club soda, chewing on a pencil, making last second revisions while everybody else is doing the hustle.
Anybody who knows me even a little bit will tell you that I am not a wallflower, but I somehow let my desire to bring my A game almost undermine that same game.  Your "A" game is still a game, and games are supposed to be fun. I forgot that if I, as the artist, am not having good time, nobody else will either.
I'm back on track now.  Today is going to be an amazing experience.  I've been here at the Radcliffe Institute at Harvard University since September, piecing together this novel.  It's my most ambitious work ever.  It's very contemporary and sections of it are narrated in the voice of a man.  I'm taking on some Big Ideas, but I also want to make sure it pops on the level of old-fashioned plot.  I've worked hard on Dear History and I am ready to share.  The even is open to the public, so if you're in the area, I'd love to see you.
I know I haven't been the most regular blogger these days, but I promise to report back and let you know how it went.