Finding the time is write is hard, but finding the courage is harder.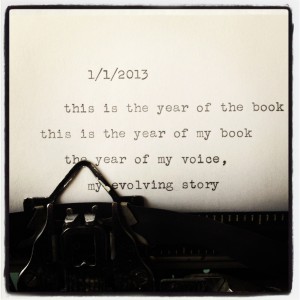 Yesterday, I sat down to write.  It's the new year and I have big plans and I have made a big committment to those plans.  I am taking an entire year's leave from my teaching job in order to fully dedicate myself to writing a new novel.  It's a big deal, a big blessing, all of that– so why did I sit down to my desk on New Year's morning and feel like of… nervous?  Am I not the person who whines that I don't have enough time to write?  Well here's time, a lot of it, and I was acting like I was afraid of my typewriter.
It's hard to do what it is you want to do.  Wanting is the easy part.  Trying your hardest, well that's when it gets tricky.  Every great effort runs the risk of great failure.  With every new book, I have the fear that maybe I won't be able to pull it together.  Maybe this project is too ambitious.  My novel in progress features the voices of three characters– two of them are men.  This is new territory for me and I had somehow managed to freak myself out.
So instead of spending the day working on my manuscript, I spent the day working on me.  I typed myself little love note you see here.  I wrote all my fears and worries in my journal.  But I also wrote down all my goals and hopes.  I also took stock of every good thing that happened in the last year.  I wrote down the names of my friends and my family.  I wrote the names of my mentors.  I wrote the names of my earlier books and the characters.
In short, I reminded myself that I am not alone and I can do this.
And I will.
And you will.
Happy New Year.  Happy You Year.