If These Shoes Could Talk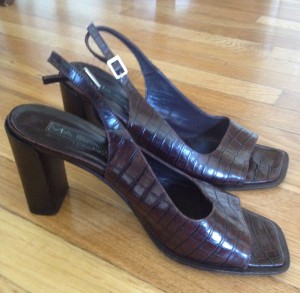 Yesterday, I spent the weekend in Los Angeles to give readings from Silver Sparrow at Eso Won Bookstore and the Los Angeles Times Festival of the Book.  For both events, I wore the shoes you see pictured here.  I know they aren't much to look at.  They're not red-bottoms, or Jimmy Choo's.  But when I bought them, about twelve years ago, they were a real investment.  When I was in graduate school, I was an obsessive bargain hunter.  I was poor as a little mouse—living on approximately $1,200 a month.  I saw these shoes at some closeout store.  I still remember the description—Via Spiga, open-toe slingback, croco-embossed.  That last phrase, croco-embossed, really got me.  I was in shoe love.  But the cost– $73! It was such an indulgence.  I decided to buy them because I was giving a reading from my work-in-progress (Leaving Atlanta!) and I wanted to look nice.  I felt vain and silly for spending so much on a pair of shoes I was convinced I would never wear again.  Afterall, how often did I need to look nice? I was just a young woman with no money, chasing this writing dream.
I remembered this as I packed the shoes because I had left them behind last month when I traveled to New York to speak at the Harvard Club.  It was sort of a pain to get them back.  My assistant, Sarah, had to call half a dozen people to find them, and then there was the cost to have them overnighted.  And face it, the shoes really aren't that fabulous.  Inside they are a little worn, so my feet slip in them and after a few hours my baby toe hurts.  But I can't give up on my croco-embossed sling backs.
It's not that they are a reminder of how far I've come, though is it nice to look at them that way.  But I like to think they remind me that I've always had my own back.  I bought myself a pair of fancy shoes although that negative voice that lurks in my head told me I didn't deserve them, that I would never need them again.  That I shouldn't get accustomed to speaking in public.   When I bought them, the negative voice told me that I was vain and shallow.  But the real story is that I invested in myself.  That I had a feeling that maybe the best was yet to come.