Is Lisbon too far? Let's Work Together in New York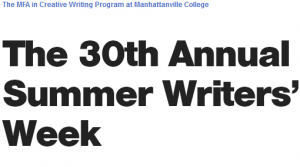 This summer, I am teaching a fiction workshop in Lisbon, Portugual as part of the DISQUIET workshops and I am also teaching a workshop a little closer to home.  Please join me at the Manhattanville Summer Writers Week just north of NYC.
Manhattanville College's MFA program in pleased to celebrate the 30th Anniversary of its Summer Writers' Week from June 24-28, 2013.

Summer Writers' Week offers writers an opportunity to spend an intensive week working closely with some of the country's finest writers and teachers of writing. Enjoy workshops in Fiction, Poetry, Creative Nonfiction (Memoir/Autobiography), and Children's/Young Adult Writing.