PS #WriteLikeCrazy On Holiday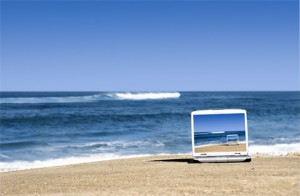 Oops, I was so caught up with the philosophical implications of my vacation that I forgot to post a couple of updates.  (This awesome picture that I am posting is hopefully what I am doing by the time you read this.  This is an auto post written in the airport on my way out.)
#WRITELIKECRAZY will go on.  I have my work in progress with me.  I didn't want to leave it behind. This is kind of why I don't say writing is my job. I would never take my job with my on vacation.  Writing is my heart and I will get some words on the page in the mornings.  After which I will indulge in regular like beach reading, dancing, mojitos, and maybe jet skiing. (I'm on the fence about that one.)
There will be #WRITELIKECRAZY blog posts appearing here, magically in my absence! There are a couple of cool guest posts in the hopper and some posts written by yours truly.
I am trying to think of a cool way to celebrate LEAVING ATLANTA'S tenth birthday.  That book is my baby-boo.  I am thinking to give away ten books for ten years.  If you have cool contest ideas, let me know.
Alright. That's it.  I gotta a plane to catch.  Actually, a lot of planes to catch. But by the time you read this, let's hope I am on a beach, sipping a mojito and #writinglikecrazy.  I hope you'll keep the hashtag alive til I get home.