Ready. Set. #WRITELIKECRAZY. Do you know what works for you?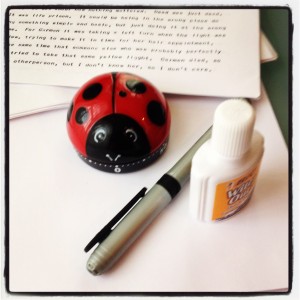 Part of #WRITELIKECRAZY is to learn what your process is, and honor that process.  Once reason why I don't get obsessed with word count is because that's not how my writing brain works.  I don't like deadlines. I don't like pressure.  For me, the pleasure of writing is that I'm doing my own thing my way without having to accountable to any bean counter at the end of the day.  So my goal for #WRITELIKECRAZY is going to be to spend two solid hours a day writing.
I have written under deadline, and I will admit that I did get the work done, but I didn't enjoy it.  I know that writer like to say that "writing is my work."  And I will be first to say that it is hard work, in that it takes a lot of effort, but I don't think of it as my job.  Maybe it's because the job doesn't sound like joy to me, doesn't sound like the luxury of self expression.
I know that there are people out there who haven't quite figured out how you write best.  For you, I would recommend trying to spend this first week figuring out what makes you feel best at the end of the day.  Try a word count goal and see if that works for you.  Did you find yourself banging out nonsense pages just to meet the goal?  Or did you accomlish something meaningful.  The next day, try using the timer.  You can also set revision goals.  Promise to revise a short story over the course of the month.  Or set daily revision goals.
Remember, the point of this is to leave you feeling good about yourself and your work.  I want us all to be eager and energized and ready to write the next draft.  This is not like a crash diet where we starve ourselves to fit into a slinky party dress.  This is about enbracing what we do, how we do it– and to actually do it.  To write. To think about writing.  To talk about writing.  To express.
Me,  I'm using the timer method.  Two hours.  I know that doesn't seem like much, but you would be surprised what you can accomplish with 120 minutes.
When I say accomplish, maybe it will be an awesome work count, which I can report the next day.  But the two hours may be what I need to figure something out that's been hanging up the story. And I know there will be days where two hours just isn't enough, where the getting is good and I just need to write for another two hours.
The photo you see here is my ladybug timer. (Isn't she cute.  She reminds me to play a little.)  If you hear ticking, that's the sound of my first hour starting. Ready. Set. #WRITELIKECRAZY.
And tell me, what's your plan?