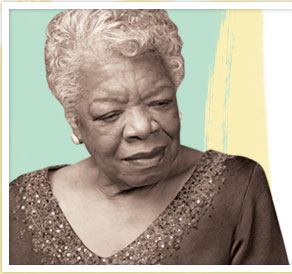 Yesterday the great writer Maya Angelou passed away.  I saw the news on facebook and I was felt so sad that I put away my writing, made myself some cocoa, and called up a good friend.  It was inevitable, I know.  She was 86. She lived a good life.  All of that.  I read that she had cancelled a speaking engagement a couple of days ago, so she was active all the way to the end.  It was a good life, and she enjoyed every moment of it.  This is the kind of passing that calls for one of those New Orleans style funerals where you dance instead of weeping, or at least dance while you weep.  But still.  I had to lay down for a while.
When I think about Maya Angelou, I think about I Know Why The Caged Bird Sings.  I hardly ever teach it anymore because the students have read it already by the time they get to college.  For my black students especially, it is as essential as To Kill A Mocking Bird.  And speaking of my students, how many of the have tattoos reading "Phenomenal Woman" or "And Still I Rise."  She was a beloved writer, and a beloved citizen of the community, and a true citizen of the world.
Her life was a magic trick.  She did the impossible thing.  She looked at the world clear eyed and without sentimentality.  She talked about rape back when folks didn't talk about it.  She talked about single motherhood back when "nice girls" didn't.  I read all six volumes of her autobiography when I was probably too young for them. My mother had them and I was a naturally nosy child.  It was my first glimpse into womanhood and the life of an artist, the life of a black woman artist.  But the impossible thing is that she did it, wrote about it, and continued to live a glorious life.  I see the photos of her dancing, singing, wearing dark shades, or a cool hat and I think– Still, she rises.  And she makes me believe that it's possible to honor your vision, tell hard truths, make mistakes, and still be worthy of great love and great joy.
Maya Angelou.  We will miss her.  And there will never be another.
[video] My video chat with the LATimes about Dr. Angelou