Report From Ucross or Some Thoughts On Abundance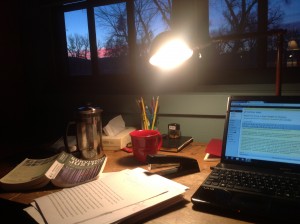 So I have spent my first week at Ucross, an artist colony in Wyoming.  I've only been here two days, but already I feel my spirits lifting.  I credit it to the overwhelming spirit of abundance that infuses everything here.
It starts with the landscape.  This is big sky country.  When I look out of the window of my studio early in the morning, I witness the miracle of a purple sunrise over a meadow that stretches as far as I can see. (If you looks closely at the photo you can see it peeking in the window.) This morning, I put on my puffy and sat out on my deck, sipped coffee and just tripped on the splendor.
The rest of the feeling of abundance comes from the colony itself.  In the past I have visited retreats that come with a long list of rules telling you what all you can't do– more like a boarding school than a true retreat.  But when we arrived here at Ucross, the terrific staff first showed us around making sure we knew where to find the tea station that featured so many varieties that I was tempted to give up coffee and join the #teamtea.  And then we were told that we could take tea with us to our studio.  Take the whole box you want.  Same for coffee which was in it's own cabinet, stuffed to the brim.  The even found an 1970s IBM typewriter for me to use! The vibe here is like this: tell us what you need to create.  My needs are modest, really.  A sunny room, a big desk, coffee, and cookies if you have them.  But what I see I also need is the feeling that there is enough of everything.  No need to ration.  That feeling of abundance has already influenced my work.
My challenge when I get home to learn to recreate the feeling of abundance.  How to feel that there is plenty and not worry about scraping the bottom.  I think the answer is going to have to be spiritual rather than material.  Because in the material world, there seldom is quite enough.  The in the spiritual realm, there is infinity.