Retreat Reading: Week One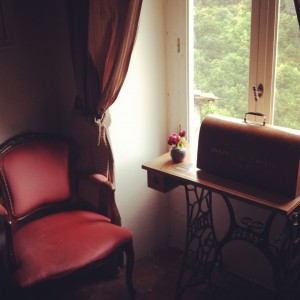 This pretty little corner is my reading look while I am at La Muse.  I write during the day and in the evenings, I read to fill the well and relax.  Here is what I have been reading lately.
Cartwheel by Jennifer Dubois:  This is a novel inspired by the Amanda Knox triall.  An American exchange student is accused of murdering her roommate.  Dubois seems to really "get" her characters.   While it has some issues here and there, I stayed up all night reading it.
In The Blood by Lisa Ugner:  Page turner falling into my favorite category of thriller– evil children.  Great writing. Twists and turns to the last page. Excellent travel real.
The Valley of Amazement by Amy Tan: A bazillion pages. Lots of great characters and many thrilling adventures.  Perfect for a cup of tea, or a glass of wine.  Very very satisfying story.