Writing Rituals: Getting My Space Together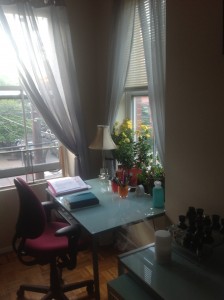 Everyone has somewhere that they prefer to write.  There is a photo of Ann Petry that I love that shows her writing at her kitchen table.  Over the years, I have written in a lot of different places.  My very first novel, which was never published, was written in the ladies room on my break from my day job.  My first published novel was written in a closet and also on a patio so tiny, that I had to climb over the little table in order to get in and out.  These days I have a writing room, but I have realized that I was not using my space in a way that was fostering my writing.
When I selected this apartment, I had to decide which of the two bedrooms would be the writing room.  There was the sunny room up front, or the slightly less appealing room in the back.  I decided that the best room would be the writing room.  This decision made me feel good about myself and my commitment to my work.  I bought a desk, and some filing cabinets.  But I also installed a futon to be used as a guest bed, if necessary.
This is an example of the ways that we can undermine our own goals.  Putting the guest bed as a permanent fixture to my writing room was my way of sharing my writing time/space with other people.  Look at it symbolically.  When other people had needs, it would be taken out of my writing space.  I have sometimes had long-term guests and I would wake up and have coffee and feel like my writing room was being held hostage.  I would be frustrated and testy, and my guests would be bewildered.  After all, I had invited them.
This is not to say that that I will no longer have guests, but I will not have a guest bed in my writing space.  I bought an airbed, which can be set up for guests (and it will probably be in my writing room), but the energy is different now.  This room is a dedicated writing room.  It' s not a writing-slash-guest room.  You know, I think that is part of what makes writers colonies so appealing, the gift of a writing space that is only for writing.
I know that everyone doesn't have the space to have a room only for writing, but maybe you can set up a corner of a room.  A table that everyone knows not to touch because it is your space.  If you work at a coffee shop or at a library, is there someway you can make it plain to yourself that you are in a physical space set aside for your work?  Maybe you can bring certain items with you, a favorite mug, paperweight, or some other talisman?  You need something that makes it clear who you are and what you are here to do.
Now, on to the ritual.
For me, it's important that I set up my space the day before.  My desk has a glass top, so I wipe it down with windex the night before.  I set out the pens, pencils, typewriter I will be using. I make sure the pens have ink, that the typewriter has plenty of ribbon. I put water in the pitcher.  I get everything just the way I need it so I can write.  This way, I am committing to writing the night before.  When I wake up, my plan is in motion.  There is nothing in my way.
If you work away from home, you can still do this preparation ritual, by getting your bag ready the day before.  Make a checklist of everything you need for your writing day and go to bed with your bag packed.