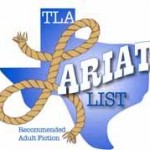 Compiled by a committee of Texas librarians, the annual list of Lariat award winners calls attention to outstanding fiction published during the year that merit special attention from adult readers. The main criteria for selecting books for the Lariat List is that they are "a pleasure to read."
Judges notation for Silver Sparrow:
Sisters, secrets, and deception devastate two African-American families in 1980s Atlanta. A lyrical narrative richly depicts the complexities of these flawed yet sympathetic characters.